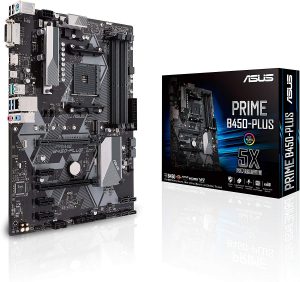 This gaming mother board is a good quality motherboard for your average gamer needs. It is not made specifically for any home or business setting. This is optimal for the average consumer and doesn't have to be purchased by professional gamers.
It is made by Asus and is an AMD compatible. Asus is based in Taipei Taiwan, and was established there in 1989. Asus focuses on electronics from things such as motherboards to full on computers to smartphones and speakers. They focus on a wide range of products that give consumers a familiarity with the brand. Asus has been given the title as #1 motherboard and gaming brand as well as top three consumer.
The B450 Plus was released in 2018, and it is compatible with the newest cpus and memory with an ATX form factor.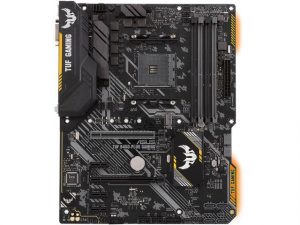 CPU: AM4 socket for AMD Ryzen 2nd Generation / Ryzen with Radeon Vega Graphics / Ryzen 1st Generation Processors
Memory:DDR4 3200(O.C)/2666/
On board components:
1 x PS/2 keyboard/mouse
1 x DVI-D
1 x HDMI
1 x RJ45 port
1 x 5Gb/s port USB Type-C
2 x USB 3.1 Gen 2 Type-A
2 x USB 3.1 Gen 1 Type-A
2 x USB 2.0
3 x Audio jack
Expansion slots:
1 x PCI Express 2.0 x16 slots
3 x PCI Express 2.0 x1 slots
The motherboards includes military grade TUF components to maximize the durability and life of the motherboard. It comes with a SafeSlot and Over-voltage protection as well to keep the motherboard stable. It also includes RGB lighting customization. It's USB 3.1 allows for very speedy data transfer speeds, up to 10 GBPS.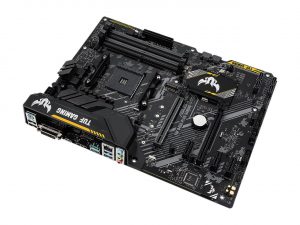 I found it on Newegg.com with an overall reviewed 4 eggs out of five, and 50% of reviewers gave it a 5/5 with their purchase. This is a good and affordable motherboard that should be used for gaming, but can most likely be used as any other type of motherboard, its just not recommended. It is now available on Newegg.com for $118.99.
References:
"About ASUS." About ASUS – Brand Story – Introduction, www.asus.com/us/About_ASUS/Company-Introduction.
"About ASUS." About ASUS – Brand Story – Introduction, www.asus.com/us/About_ASUS/Company-Introduction.
"Asus TUF B450-Plus." Asus TUF B450-Plus, www.newegg.com/asus-tuf-b450-plus-gaming/p/N82E16813119142.
Note: part of class project