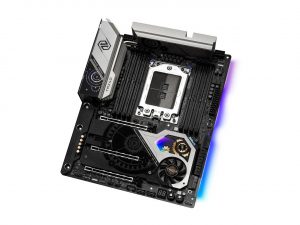 This motherboard is nearly perfect if you're looking for a top-tier gaming spec motherboard. Boasting a maximum of 256GB of quad-channel memory, easily handling AMD's Ryzen threadripper series. While only being an easy $500 USD, you definitely get the "bang for your buck" with this motherboard.
ASRock is a reasonably experienced company, producing various computer parts, ranging from motherboards to wifi antennas. Based in Taipei, Taiwan, they have various other branches in the Netherlands and the United States.
Accepted memory ranges anywhere from DDR4 3200 (non overclocked) to DDR4 4666 (overclocked). This motherboard specifically is built for overclocking. Along with multiple fans, and plenty of room for a custom watercooling loop.
" No compromise board for anyone using an AIO cooler. Only reason to pay more is if you are doing a custom cooling loop needing water channels in the motherboard."
-Paul M.
Works Cited:
"ASRock TRX40 TAICHI sTRX4 AMD TRX40 SATA 6Gb/s ATX AMD Motherboard." Newegg.com – Computer Parts, Laptops, Electronics, HDTVs, Digital Cameras and More!, www.newegg.com/asrock-trx40-taichi/p/N82E16813157903.
Note:  This review is part of a classroom project.