Western Digital is one of the leading manufacturers of Hard drives and Solid State Drives, which is also the parent company of former companies such as SanDisk and G-Technology. one of their more notable productions of HDD/SSDs is the WD BLACK SN850 Solid State Drive. (picture below)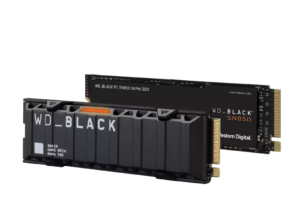 this SSD comes in capacities varying from 500GB to 2TB, with or without Heatsink. regardless of what combinations you're looking for, the prices will be anywhere above $100.00 USD.
the specifications vary based on your retailer but are suggested that you look at the official website of the manufacturer's website (i.e. Western Digital or Seagate) but are listed as follows on the Manufacturer's site: 

Works Cited:
https://shop.westerndigital.com/products/internal-drives/wd-black-sn850-nvme-ssd#WDS500G1X0E-00AFY0
Note:  This review is part of a classroom project.