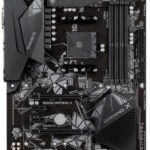 The Gigabyte B550 Gaming X Motherboard is a good motherboard for a price to performance ratio. The motherboard comes at $100 on newegg and offers many capabilities. The motherboard also has support for Ryzen 5000 series and 3rd gen Processors.
It offers plenty of SATA Ports and M.2 Connectors, this allows for plenty of storage when in need. It also has 2 PCIE x16 slots for a good graphics card or 2 if you want to run games even faster. It also has 1 PCIE x 1 slot for a network card or similar. This shows it has a good storage capacity and a good amount of areas for a graphics card.
For 3rd Gen AMD processors it has a native memory speed of 3200MHz and can have overclocked RAM up to 4000MHz. For 5000 series processors it has a native speed of 3200MHz and up to 4733MHz overclocked. This memory speed is incredibly high and it is highly unlikely you will ever use the full extent of it's speed.
It has a rating of 4 out of 5 eggs on newegg showing it is highly liked.

The fact that this motherboard can move at a very high speed such as 3200MHz shows it is a good motherboard. Many motherboards do not have this as their native speed and have to overclock to get to this speed. This motherboard comes with many features that make it a suitable motherboard for gaming or for a home pc. This motherboard also comes at a good price compared to some others. It is one of the cheapest motherboards that support AM4 processors. For these reasons I believe this to a be a very good motherboard.
Works Cited:
Newegg. "Gigabyte B550 Gaming X AM4 AMD ATX Motherboard." Newegg.com – Computer Parts, Laptops, Electronics, HDTVs, Digital Cameras and More!, https://www.newegg.com/gigabyte-b550-gaming-x/p/N82E16813145212.
Note:  This review is part of a classroom project.