The WD_BLACK SN770 is a M.2 hard drive, that was made by Western Digital Corporation. The Western Digital Corporation is a company that makes computer drives, data storage, and data center systems, and cloud storage services. Their Headquarters are in San Jose of California. So the WD_BLACK SN770 is a Solid State Drive meaning it can only last for so long, how long? It's Mean Time Between Failure last for 1.75 million hours, meaning this would last 199.7716895 years.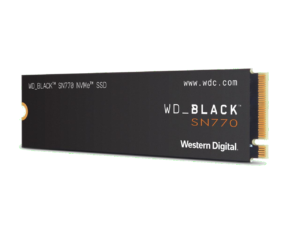 Now for speed and other stats, it's read speed is 5000MBps and write speed is 4000MBps. it's gigabyte is 500 and PCle is a Gen4 16GT/s, and can be up to 4 lanes. The 4KB Random reading is 460,000 and it's 4KB Random writing is 800,000. and getting a WD_BLACK SN770 also comes with 3-year warranty, but this SSD does not come with a buffer and does not specify if it's a TLC, MLC, or even a QLC. But the price isn't that bad for a Solid State Drive, using this SSD was pretty decent, it had plenty of room and lasted for quite a while. So if you want one the link is right here Newegg.com only for $39.99.
Note: This review is for a classroom project.