The WD101FZBX is a high-performance hard drive manufactured by Western Digital, a well-respected name in the storage industry. This hard drive boasts a capacity of 10TB, making it an ideal option for users who need to store large amounts of data, such as gamers, content creators, and professionals who work with large files.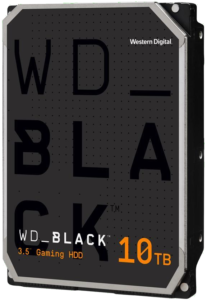 One of the key features of the WD101FZBX is its 7200 RPM spin speed, which ensures fast data transfer rates and quick access to files. It also has a large 256MB cache, which further enhances its speed and responsiveness. The drive uses the SATA III 6Gbps interface, which is the latest and fastest standard for hard drive connectivity.
The WD101FZBX uses Western Digital's advanced technology, including the HelioSeal technology, which provides an airtight seal to prevent air from entering the drive, ensuring that the disk components remain free from dust, debris, and other contaminants that can cause damage to the drive.
The drive has a mean time between failure (MTBF) rating of 2.5 million hours, which is quite impressive and offers excellent reliability for long-term use. The WD101FZBX is also compatible with various operating systems, including Windows, Mac, and Linux.
In terms of pricing, the WD101FZBX is a bit more expensive than some of its competitors in the 10TB category. However, it offers excellent value for money, given its high capacity, impressive performance, and reliability. Overall, the WD101FZBX is an excellent choice for users who require a high-capacity hard drive with fast transfer speeds, high reliability, and advanced technology features.  The drive is currently $257.82 on NewEgg and is 4-star rated by > 2500 buyers.
Note:  This review is part of a classroom project.
https://www.newegg.com/black-wd101fzbx-10tb/p/N82E16822234427?recaptcha=pass