<![CDATA[Many believe in the high quality gaming market, but few can actually afford to build such a rig to meet the demands of some mainstream triple A title games now-a-days. Due to hefty costs it is no wonder why some motherboards are out of reach to the average consumer. But… Lets just say if you need a motherboard with these specs it is safe to say that you are not just an average consumer.  This will leave even the hardest of tech enthusiasts drooling out their mouth when they take a glance at this product.
I present you with the MSI Gaming X99A GODlike gaming motherboard.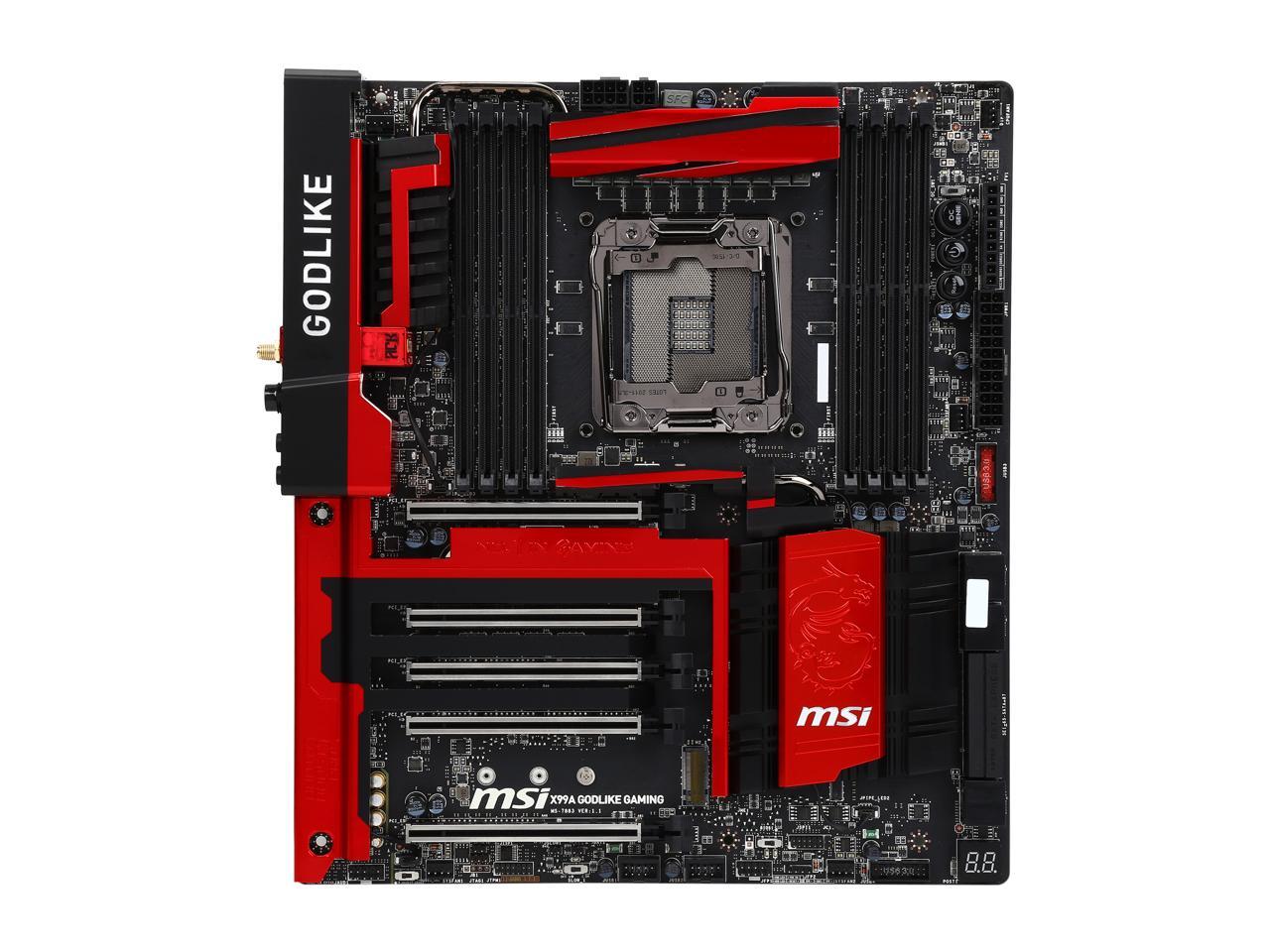 This motherboard is the best of the best with specs that can not be found almost anywhere else on a E-ATX board.  Lets take a look at these specs:
Chipset: X99
USB Ports: 6x 3.1 (1x Gen 2 1x type-C, 4x Gen 1), 2x 2.0
Audio Jacks: 5x analog, 1x 6.3 mm, 1x S/PDIF out
Sata Connectors: 10x 6Gb/s (Shares 1x SATA-E, 1x M.2)
Compatible CPU's: Core I7's for the LGA 2011 v3 socket (Not backwards compatible)
Memory: 8x 288 pin dims. (DDR4, Quad Channel)
Memory Speeds: (*=OC) 3400*/3333*/3110*/3000*/2800*/2750*/2666*/2600*/2400*/2200*/2133
Expansion Slots: 5x PCIe X16
Expansions Slot technologies: Supports 4-way AMD crossfire along with 4-way Nvidia SLI (With a CPU with 40 PCIe lanes). Also supports 3-way Nvidia SLI (With a CPU with 28 PCIe lanes)
Wi-Fi: Killer Wireless 1535
Lan: Killer E2400 Gigabit
Bluetooth: v4.1
This motherboard definitely does not disappoint on the spec sheet, and with a–wait for it– monstrous $999 price tag attached to it (Via Newegg) one would hope it didn't.
What comes in the box is not disappointing either.


With premium packaging the box withholds the following:
Installation CD
8GB installation USB drive
Instruction manual
Quick start user guide
Padded I/O back-plate shield
10 SATA cables Including five with angled heads
Four flexible SLI bridges
M.2 to U.2 adapter card
Six voltage check extension leads
3.5mm to 6.3mm headphone jack adapter
Two WiFi antennas with external magnetic mounts
After a look at this, one could draw the conclusion that the box is as loaded as the specs are.
But what you are really interested in, is the performance. Will it be future proof? Is it reliable? Etc. Well since my word is not enough I will present a customer review (via Newegg).
"I don't know where to begin. I had this motherboard up and running my Core i7 5960x @ 4.7Ghz in an hour w/ a dual custom water loop. Ran into ZERO problems. Everything fit perfectly and booted up like lightning! I updated the BIOS to the newest version with ease." ~Vincent D.
He went on to say:
"Best motherboard I have ever used. I was wary about the price at first but all worries went away when I finished my build and fired this monster up for the first time. A Happy MSI and Newegg Customer!"                                                                                                                                                   ~Vincent D.
Among many other reviews on Newegg I find the same general Pros and Cons amongst all of them. The good parts of the motherboard review is quite obvious, with great specs and an overall good quality of materials used, it is no surprise that this is one of (if not) the best motherboard on the market for gamer's right now.
The only gripe that is negative that persists throughout the most reviews is that you're beholden to the red aluminum on the motherboard, even with the glowing bright multi-colored LED's that come with it. The red aesthetic may not be for you or your rig, so keep that in mind if you plan to buy this board.
In conclusion this motherboard will suit almost anyone's needs for any given use-case. With that being said, assuming you can throw around $1k at your rig this will be future proof for an estimate of 4-5 years, and will come with reliability and class.
If you wish to read up on more reviews or even buy this product I'll leave the following links:
Buy on Newegg / read other reviews.
Tom's Hardware overview
Note:  This review is part of a classroom project.
"MSI Gaming X99A GODlike Gaming LGA 2011-v3 Intel X99 SATA 6Gb/s USB 3.1 Extended ATX Intel Motherboard." MSI Gaming X99A GODlike , 2018, www.newegg.com/Product/Product.aspx?Item=9SIAGAH8C24815.
Linden, Eric Vander. "MSI X99A Godlike Gaming ATX Motherboard Review." Tom's Hardware, Tom's Hardware, 25 May 2016, www.tomshardware.com/reviews/msi-x99a-godlike-gaming-intel-lga-2011-v3-atx-motherboard,4570.html.
"Intel® X99 Express Motherboard X99A GODLIKE GAMING." Overview for GeForce GTX 1080 GAMING X 8G | Graphics Card – The World Leader in Display Performance | MSI USA, us.msi.com/Motherboard/X99A-GODLIKE-GAMING.html.
]]>