We recently acquired 3 IceBreaker 4936 servers from DoDCFL (for free) and were looking for the best use for these bad boys.  We landed on our CCTV setup.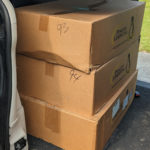 They are all 36-thread servers with 256GB of RAM and 216TBs of HDDs.  While the storage isn't blazing fast by today's standards, it is great archival storage.
Our CCTV system is Milestone, which requires the storage drives to be local.  We decided to try and set up TrueNas on the Icebreaker to allow us to greatly enhance our storage longevity.  The RAID and TrueNAS install are covered in a separate post by my excellent Miami intern (Maverick Peck), that completed that part of the process.
After TrueNas was installed we had to first setup iSCSI on the NAS.  We tried other solutions but in the end, the only one that worked with Milestone was having the drive on the recording server connect with iSCSI Initiator.

Step 1 – On the server that is connecting to the NAS, install iSCSI Initiator.  By typing iSCSI in the start bar you will get the best match of iSCSI Initiator, simply click on it.  Click the Yes button to make it a service that starts automatically in the future.
Step 2 – Set up the iSCSI Share you will be using on TrueNAS.  This YouTube video capture covers the process of:
Setting up the Zvol storage pool
Configuring the iSCSI Block Share
Enabling the TrueNAS iSCSI Service
Connecting the NAS Volume to iSCSI Initiator on your server
Finally, setting up the new disk in Disk Management
Hopefully this helps anyone else looking to setup a NAS and getting drives mapped as local drives on their server.